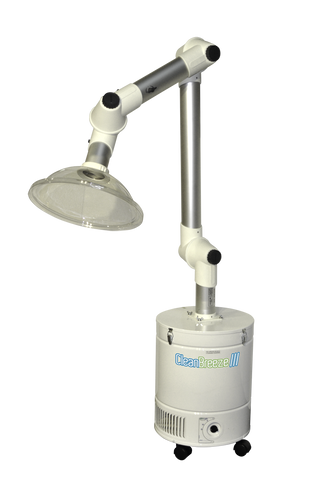 CleanBreeze III Air Cleaner
Capture harmful toxins at the source
The CleanBreeze - an air cleaner to protect spa and salon owners, workers and clients
Employees and patrons of spas and salons are routinely exposed to toxic airborne chemicals such as formaldehyde, acetone, toluene, titanium dioxide, ammonium hydroxide and ethanol that are found in hair straightening treatments, nail polish, nail glue, permanent hair dyes, aerosol hairsprays and a wide range of scented beauty products.
The Clean Breeze III is Electrocorp's first-rate air purifier for salons and spas. Its flexible arm and precision cap will capture chemicals, odors and particles directly at the source to keep employees and customers safe from ambient air pollutants.
Precision air cleaning
Electrocorp's precision air cleaning with source capture, flexible arm and Carbon + Super-HEPA technology for both gaseous (chemical and odor) and particle contaminants is an efficient, portable and adjustable industry solution for the removal of airborne toxins.
The Clean Breeze III is designed to capture harmful airborne contaminants at the source. Equipped with pre-filters, Super-HEPA and an activated carbon filter that offers more inches of filter depth, extended dwell time and increased adsorption power, the Clean Breeze III captures more chemicals, gases, odors and particles than ever before.

Electrocorp source capture systems:
Remove dangerous fumes before they become part of the ambient air
Eliminate the need for costly air makeup systems
Improve overall workplace air quality
Adsorb more airborne chemicals with the deepest activated carbon beds available
Carbon Filter
18 lb. / 24 lb. / 27 lb. carbon filter (Vocarb)
Particle filter
Super-HEPA (99% efficient at 0.1 microns)
ProDense prefilter
CFM
400 rated (200 delivered)
Dimensions
23.5" x 15" for air cleaner base
Arm

Articulating arm with 3 elbows

Features
8' cord
50 dB on "low" setting (most efficient)
4" x 2" wheels
Prefilter access from the top (no tools required)
Main filter access from the top
115 / 230 V
---